How to Get Free And Low-Cost Live TV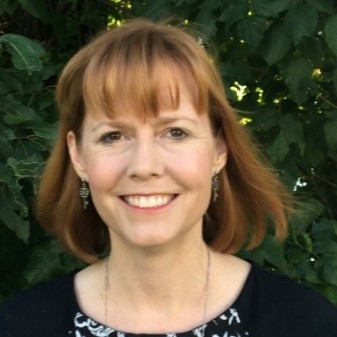 Cable television can be expensive. Often, you end up not using all the "premium" channels, but you're still paying a premium price. Maybe it's time to change gears and start considering free and low-cost live TV alternatives, whether in the form of a cheaper cable package or a different technology altogether.
In an age of information overload and too much marketing hitting your screen, you can easily get lost. But if you still want television in your household, then you will need to do some navigation. What are ads talking about, and are they trustworthy? This article will guide you through all the hype to help you find your best possible deal on TV.
OTA TV
If you're wondering what over-the-air (OTA) television is, then the easiest way to think about it is to consider it similar to how people used antennas decades before to pick up TV signals. The OTA receiver acts as an antenna, and when the device is connected to your television, you can watch practically as you always have.
Now, if you're worried about watching a static mess, you should know that the technology has vastly improved over the previous decades. You can get a crisp, clear picture and more channels than you might think. You will need to set up the antenna and capturing device, but this setup is an easy process.
What to Look for in OTA TV
If all you want is the most basic option with a couple of local channels and the main broadcast networks, you're probably all set with one of your area's cheapest setups. What you want is a more advanced antenna, and that's what you'll get. To find out what channels are generally available in your area, you can use this helpful tool from the FCC.
If you want a more sophisticated setup, you can look into more expensive options. You probably won't get a miracle or premium channels no matter what OTA antenna you use, but you will be able to hook up to more TVs at once, get a better signal that can support a 1080p or 4k picture, and pick up signals from a wider radius.
You will want to check these metrics to see what the best fit for your home and your budget is, as well as how you might want to use it once it's in your home.
What About OTA DVR?
If you are looking into a mostly OTA TV setup, you might want to consider investing a bit more money into an OTA DVR setup. While this equipment can cost you a few hundred dollars, adding the DVR will allow you to record programs to watch later. (Just skipping the ads may be worth the price of entry alone.)
The equipment will vary based on the model you choose. Better models will allow you to store more content, record more shows at once (at higher quality resolutions, if possible), and in general, enjoy more user-friendly interfaces.
Be aware that some packages may charge regular service fees after the initial purchase. They aren't universal, so compare your options if you're looking to keep costs low. However, there may be additional features and options with the paid fee model.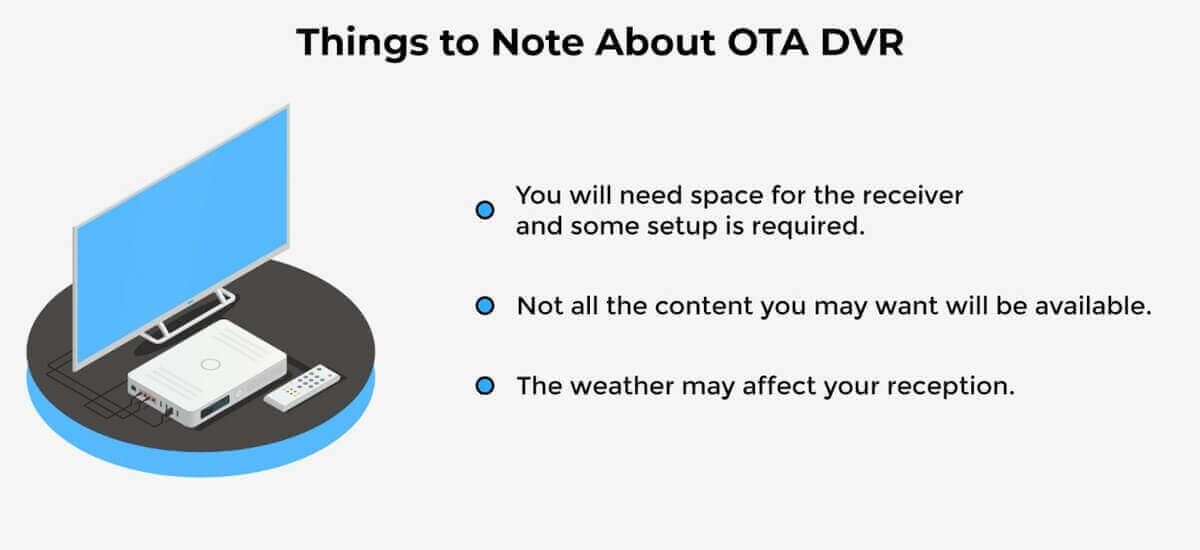 What to Know Before You Start with OTA
Some setup will be required. Usually, you will need to set up an antenna, although there are many options where you can set up indoors. Setup will require some space and preparation, so be sure you are prepared to commit in both regards, and carefully read about a model before ordering it.
You will not be able to receive on-demand programming and premium cable channels. OTA cannot supply these licensed options. To get those, you may want to get a supplementary streaming service.
Access to the signal does matter, and poor weather conditions can temporarily affect your viewing experience.
Other Options and Services for Streaming Live TV
Streaming services that allow you to stream live TV are a recent addition to the stable of options for most households. All you will need is your internet connection and perhaps a peripheral device such as a Roku or smart TV, plus a subscription to the service.
These services are designed to keep you up to date with your favorite (and soon to be favorite) shows the moment they air and allow you to watch television live much like a cable broadcast. Ideally, it is the same experience, just online and perhaps with a few perks.
Here are some of the most common and popular options for streaming live TV:
Hulu (+ Live TV)
You might associate Hulu with just its streaming services, but Hulu can be an excellent option for those looking for some additional content or for people looking to keep up with the most current shows. The service is roughly equivalent to a modest cable bill in cost and has both ad-free and regular versions.
Sling TV
One of the best options for live TV streaming is Sling TV. A service with multiple options, it's a trailblazer in the market, allowing people to have stable access to live TV without being tied to a cable company. Sling offers customers several options, including some for premium channels (for an extra cost), and will have most of the cable channels you already know and love.
Sling also happens to be a great low-cost option for sports fans.
Philo
Philo's main benefit is that it is the cheapest option among  live TV streaming services.  While it may not have as many options as its competitors(as of this writing, it has 61 channels), Philo can be the perfect way to try out live TV streaming for your household before shutting off your premium cable plan.
YouTube TV
YouTube TV has most of the major channels you might expect from cable and has one of the most balanced sets of programming for those with varied interests. As far as price, at about $65 monthly (as of this writing), it remains a viable alternative to cable, but not always the cheapest one.
Additional Services
The services above are just the beginning: there are many more streaming services that will bring you live TV. Remember to keep an eye on the new offerings on the market: streaming services are multiplying every month.
FAQS and Other Items You Should Know
When Should I Consider a Bundle?
We think a bundle would be the best choice for many families, especially if you are also in the market for internet services (whether you're moving to a new place or dissatisfaction with your current provider). It might be easier to ask yourself, "why not a bundle?" if you know you could use the services mentioned and are not bothered by the modest price.
However, the answer to this question will vary heavily based on your household's location and available options. Remember, sometimes no deal when it comes to cable is better than no cable, although in the modern world, you still likely need quality internet service, especially if you're interested in getting content elsewhere.
You may also want to consider a bundle with telephone services, but most modern households can and should easily work with only cell service plans.
What Should I Look for in a Potential Bundle?
Bundles can vary, but they also have some common threads. To avoid making a regrettable decision, look for the following with any bundle: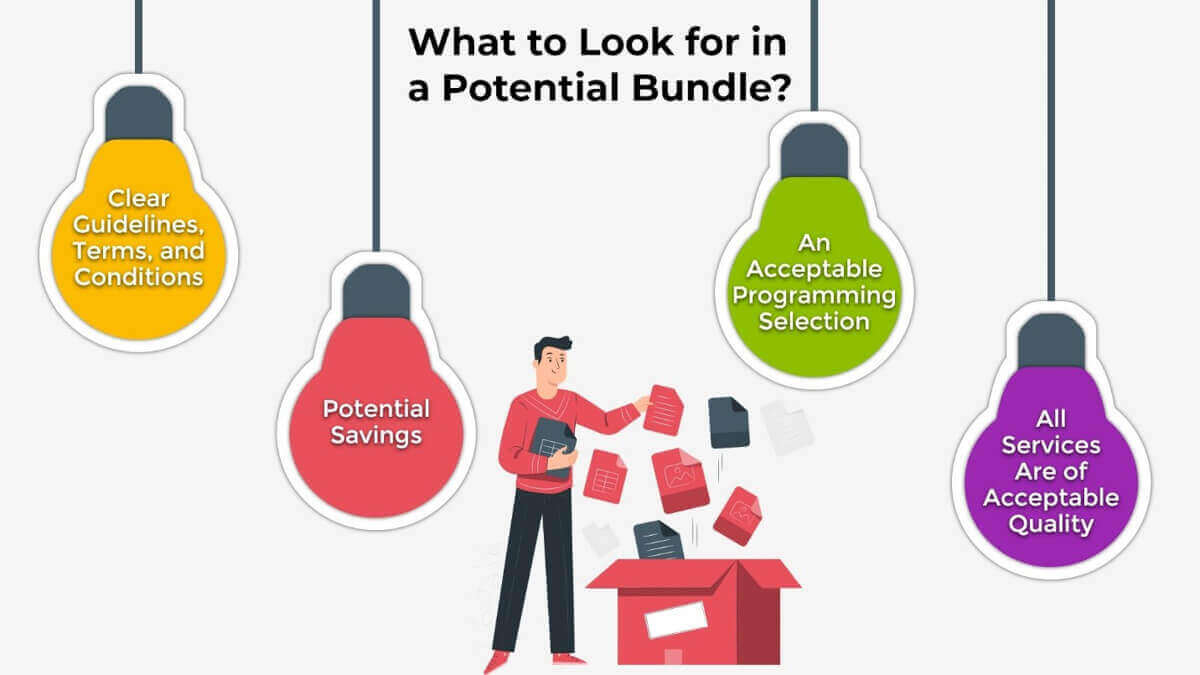 Clear guidelines, terms, and conditions. Bundle pricing usually does not last forever, as we mentioned, so get a clear idea of what you'll be paying and when.
Reasonable savings, after all factors are considered. If you are only going to save $10 a month when all is said and done, it likely isn't be worth it. Do the math ahead of time.
A selection of channels that is still competitive. Some deals will leave you with only a few channels to work with. Make sure the channel list at least piques your interest.
The quality of the other services received. Even if the cheaper cable would be great, that's only half of the equation, and honestly, the less important half. Make sure you have good internet.
What Is My Cheapest Option for TV?
Naturally, this will vary, but an OTA setup will be hard to beat over time, both in terms of value and minimum cost. Half the cost of a traditional monthly cable bill is hard to pass up, and if you only watch TV occasionally or for some big events, it will likely be just what you need.
However, if you're also looking to bundle, some people can get a high-speed internet connection and about 50-60 channels for the low price of $30 a month. Compared to what many families pay, it's a steal. Even for those who cut the cord entirely and not counting internet costs, two content streaming services equal this package.
Can I Tap into Traditional Cable TV for Free?
Not without breaking the law and risking consequences. Cable companies take theft seriously, and content creators, studios, etc. have gotten better in recent years at detecting torrenting and other methods of obtaining  content freely.
Is TV Setup Difficult?
Usually, in fact, nearly always, the answer will be no. It is not difficult. If you've set up a cable box before or have used an antenna for your television, you can likely handle anything the above options might throw at you (and it isn't much).
If what you are going for is, in fact, a competing yet cheaper cable service, then you have nothing to fear. You will just go through the same motions with a different partner.
Some TV live streaming services might have a peripheral they would like you to use, and setup might vary. Still, it usually involves just following onscreen instructions after plugging in the device or devices into the correct port and perhaps making or logging into an associated account.
An OTA TV setup is probably the most complicated option, but as mentioned, the most work you will do is set up the antenna and make sure everything works right and that the signal is perfect. Most people have no trouble with them, and in most cases, you can get further instructions or support if you need it.
Are there Fees for Early Cancellation of Cable Subscriptions?
Canceling your current cable plan early might be tricky. Check before you pull the plug. You don't want to get a large and unexpected bill, which would ruin the savings you get from making the switch.
In some cases, you might be able to get a new company or provider to buy out your current cable contract. You will also need to return any equipment that you are renting from your current cable provider.